A Unique Place for Your Unforgettable Memories in Istanbul Nights with History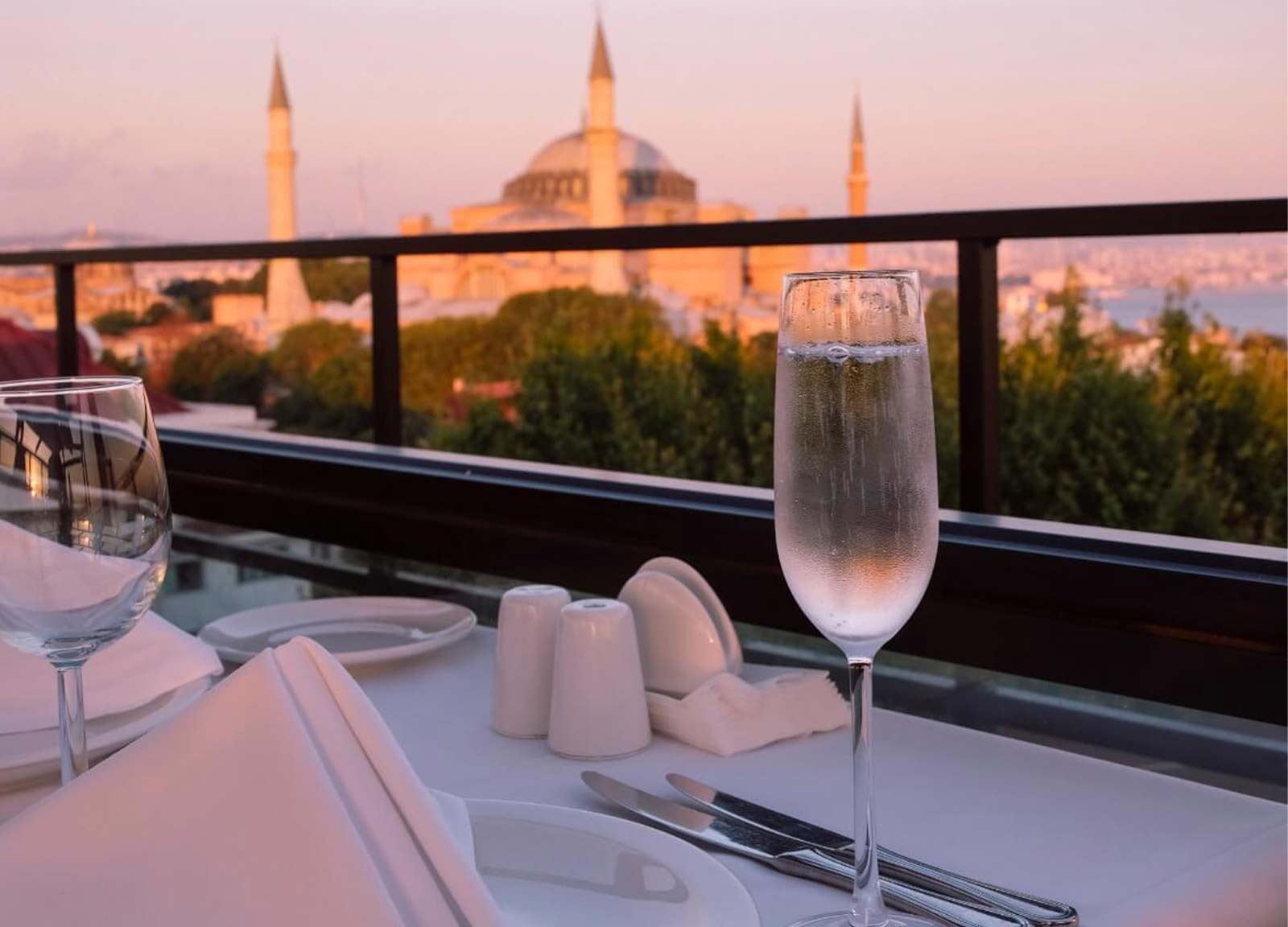 Deraliye Terrace, where you can breathe in the historical atmosphere of Sultanahmet and get a bird's eye view of iconic buildings such as Hagia Sophia and the Blue Mosque, is not just a restaurant, but also a place that offers you the opportunity to celebrate the special moments in your life.
Deraliye Terrace is a sanctuary in the heart of historic Sultanahmet, preserving the spirit of the past while having all the amenities of the modern world. You can feel the elegance of the Ottoman Empire and the eclectic energy of Istanbul in its stone walls, wooden details and every corner. This atmosphere is an invitation to celebrate your special moments and collect precious memories.
In this place, it is possible to discover the history and culture of Istanbul with every sip and bite. Deraliye Terrace's menu combines the most distinguished examples of historical Istanbul cuisine with modern presentations. This unique taste experience, combined with the view offered by the historical venue, turns into a truly unforgettable memory.
The Place of Special Moments: Unforgettable Experiences at Deraliye Terrace
1. Romantic Dinners
Dining here with your loved one at sunset, when the lights of the city shine, is one of the most romantic experiences you can have in Istanbul. You and your loved one can make unforgettable memories together on this candlelit terrace with traces of history.
2. Celebrations and Special Occasions
Birthdays, wedding anniversaries, or graduation parties... Whatever special day you want to celebrate, Deraliye Terrace offers you and your loved ones an atmosphere that will make these moments immortal. You can make your day even more special with special menu options.
3. Business Meetings and Organizations
Take a short break from the speed and stress of the business world and hold your business meetings at Deraliye Terrace. Impress your business partners and customers with modern presentations in a historic atmosphere.
4. Themed Nights and Events
Experience the flavors of different cultures and histories with themed nights organized at certain times. Spend a different night with live music, folklore performances, or special chef presentations.
5. Photography and Art Events
Deraliye Terrace is also a unique venue for photographers. It offers an ideal backdrop, especially for wedding photos and engagement shoots. You can also enjoy a cultural experience with art events and exhibitions organized at certain times.
In conclusion, Deraliye Terrace is a place that appeals not only to the stomach but also to the soul. You can find traces of history and culture in every corner, in every flavor, and immortalize the special moments in your life here.