Best Sultanahmet Terrace Restaurant: Deraliye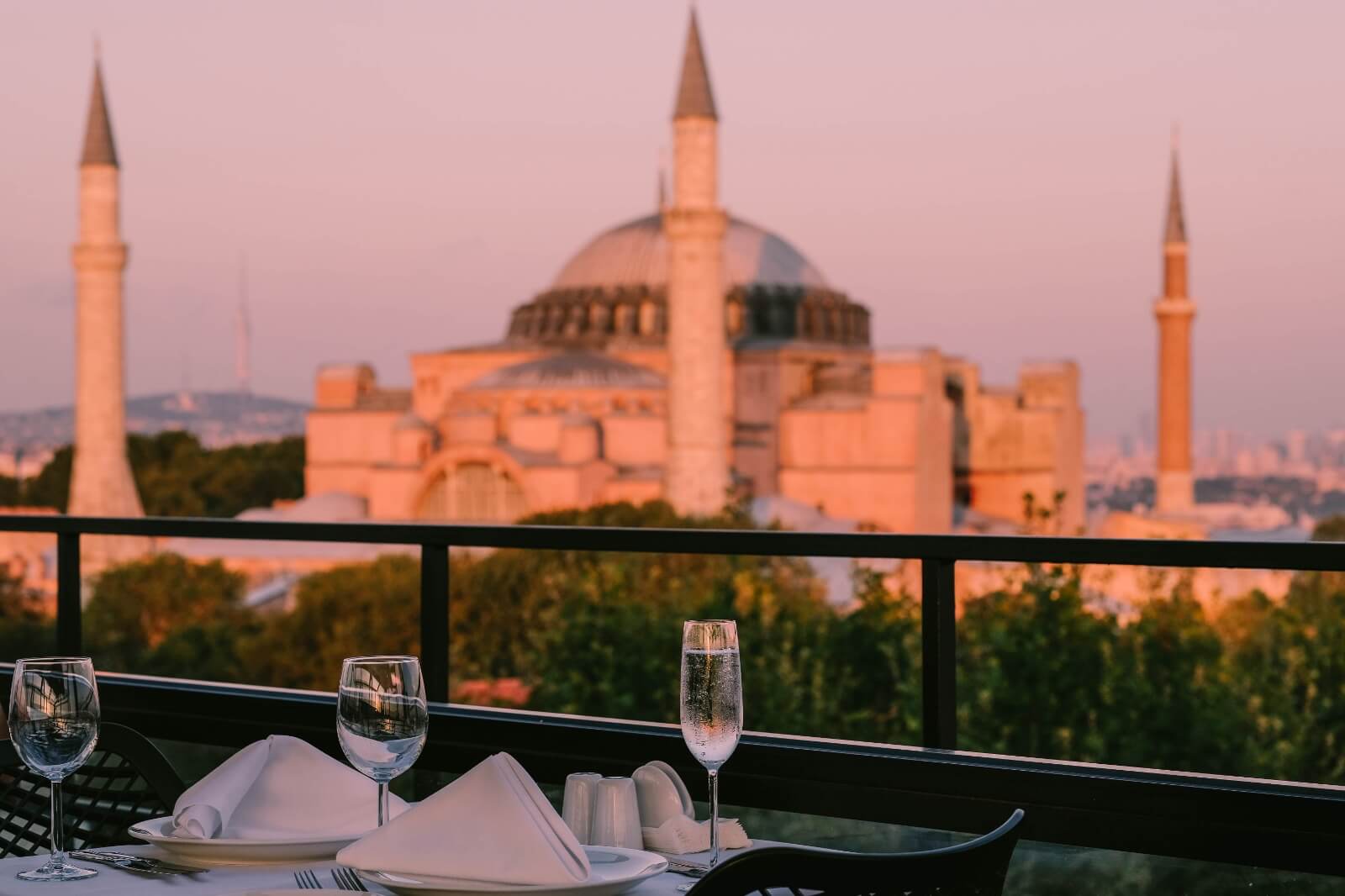 Deraliye Terrace Restaurant has a very special place among Istanbul restaurants with its 360° panoramic view of Sultanahmet. Thanks to the magnificent location of Deraliye Terrace, you can watch Hagia Sophia, the Blue Mosque, and the historical Hippodrome Square while sitting at your table.
Historical Capital of Istanbul: Sultanahmet
Sultanahmet is like the capital of Istanbul, the most beautiful city in the world. The ancient history of the city is in this region. The Historic Peninsula was known as Istanbul in the days of the Byzantine and Ottoman Empires.
Sultanahmet is the heart of historical Istanbul. The most famous and striking monuments are within walking distance in this area. For this reason, the Sultanahmet region is indisputably the most important tourism region of Istanbul. It includes Hagia Sophia, Topkapi Palace, Basilica Cistern, Blue Mosque, and many more historical monuments. This region, where many civilizations live, is very rich in terms of culture. Of course, this wealth is also seen in the Sultanahmet region's eating habits and cuisine.
It is also connected to other parts of the historical peninsula, such as Beyazıt, by tram. The area is full of breathtaking views of the Bosphorus and the Golden Horn, historical monuments, quaint neighborhoods, and of course local delicacies!
But not all eateries and restaurants are great, so we invite you to the best restaurant in Sultanahmet.
Deraliye Terrace Restaurant, Sultanahmet - Istanbul
Our restaurant serves the best fish in the city, brought fresh daily from the Sea of Marmara, with the creative style of Turkish cuisine. It has a special position among Istanbul restaurants with its menu variety and view. Deraliye Terrace Restaurant, with a capacity of 65 people, prepares special menus for each season and serves all year round.
Deraliye Terrace; It has a delightful roof terrace with views of Topkapi Palace, Hagia Sophia, Blue Mosque, and Sultanahmet Square. It has an ideal location just 200 m from Sultanahmet Square.
Located on the terrace of Sura Design Hotel, the award-winning hotel of the region, Deraliye Terrace Restaurant is a few steps from the Blue Mosque and Hagia Sophia. It is within walking distance of touristic places such as the Basilica Cistern, Million Stone, and Cembelitas.
Enjoy stunning panoramic views of the Bosphorus, Hagia Sophia, and the Blue Mosque at sunrise and sunset each day.
You can continue to explore the Historic Peninsula after your meal with the Sultanahmet tram station right at the beginning of the street.