Deraliye Terrace Restaurant in Sultanahmet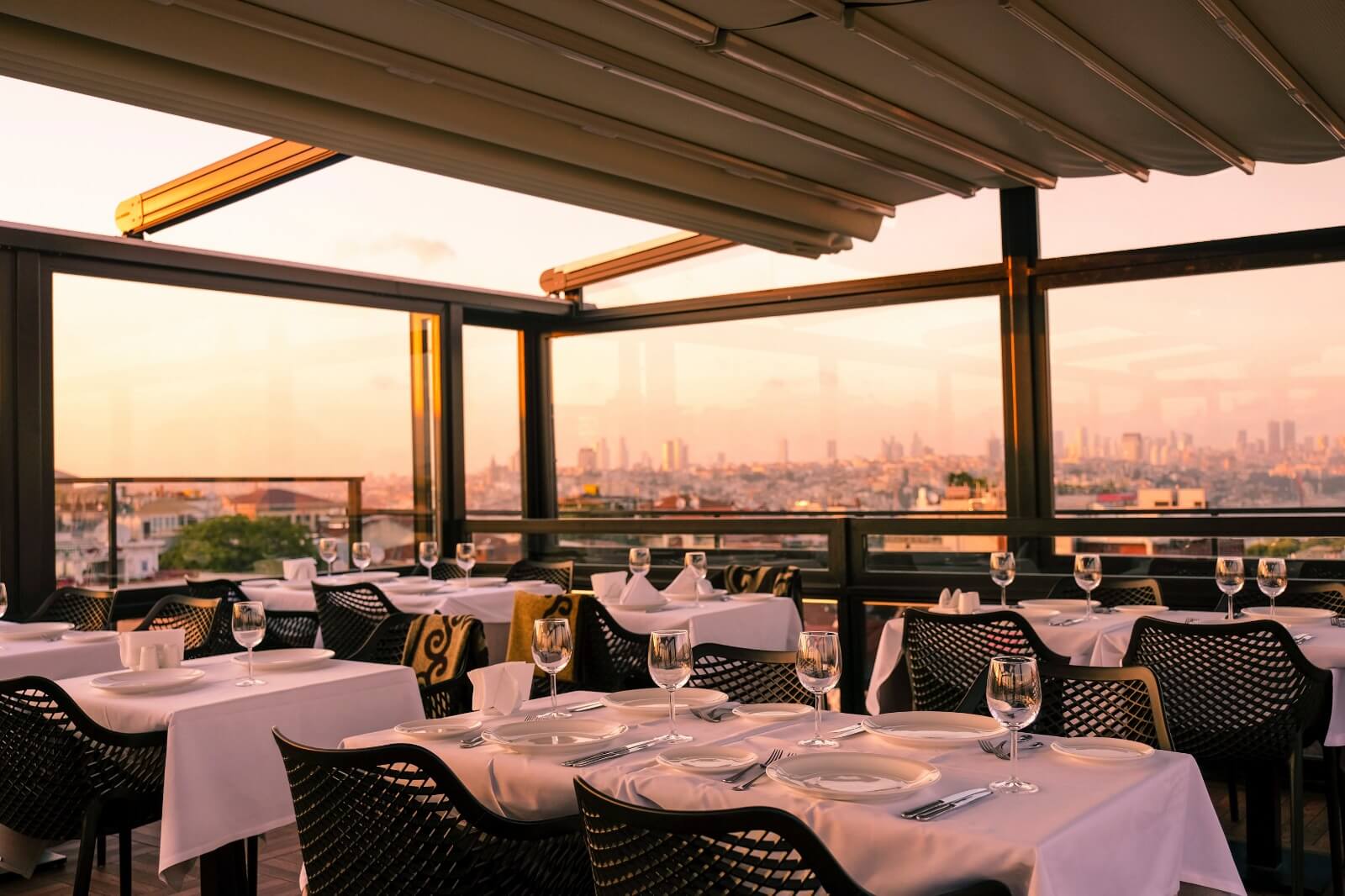 Discover the best terrace restaurant place with the best view in Istanbul and different atmospheres in the summer and winter seasons.
Istanbul is the most visited city in Turkey. With its history, culture, and geography, it is almost a pupil of the eye. See Istanbul, which welcomes guests from all over the world in every season, through the eyes of Deraliye Terrace Restaurant.
Are you looking for a comfortable and stylish place? A terrace restaurant that will add more pleasure to the day that starts with pleasure and appeal to your palate with its delicious cuisine choices, where you can breathe when you are bored with your daily routine. Is this what you're looking for? Deraliye Terrace in Sultanahmet, the historical center of Istanbul and the heart of tourism, is just for you. We invite you to take a look at this unique view and experience our delicious menu.
At Deraliye Terrace, which is both fun and comfortable Istanbul terrace venue, you can either renew your love by experiencing romantic moments or enjoy the pleasant view with your friends.
Sultanahmet Restaurant with the Best View
Sultanahmet is extremely popular, with many attractions close to each other within a short walking distance, all located around the site of the ancient Byzantine hippodrome. It attracts attention with its atmosphere of peace and tranquility, as well as marvels such as the Blue Mosque, Hagia Sophia, and Topkapi Palace. A beautiful world consisting of pleasant roads and side streets, magnificent Bosphorus view, and accommodation facilities are the things you will see in Sultanahmet.
Your meal will pamper you while enjoying the best views of this historic district.
Deraliye Terrace Restaurant
A very special terrace restaurant that takes your breath away with its view in the mystical environment of Sultanahmet. Welcome to Deraliye!
In the pleasant atmosphere of Deraliye Terrace Restaurant, which equips your tables with special tastes from Turkish and World cuisine, flavors from world cuisine and seafood are presented to you for an unforgettable experience.
Thanks to the fresh air of the terrace, the colorful world of the street, and the magnificent view, Deraliye Terrace Restaurant welcomes you in this pleasant environment where the service and taste will make you especially happy. An environment where you can watch the view of Sultanahmet in a 360 degree panoramic way. Bosphorus, Hagia Sophia, Blue Mosque, Historical Hippodrome square, and many more places... all under your feet.
A wide variety of flavors such as Goose Kebab, Lamb Shank, Rib Steak, Adana Kebab, Salads ve Fishes are waiting for you at Deraliye Terrace Restaurant. Click to make a reservation now.