Pomegranate Syrup or Extract in Turkish Cuisine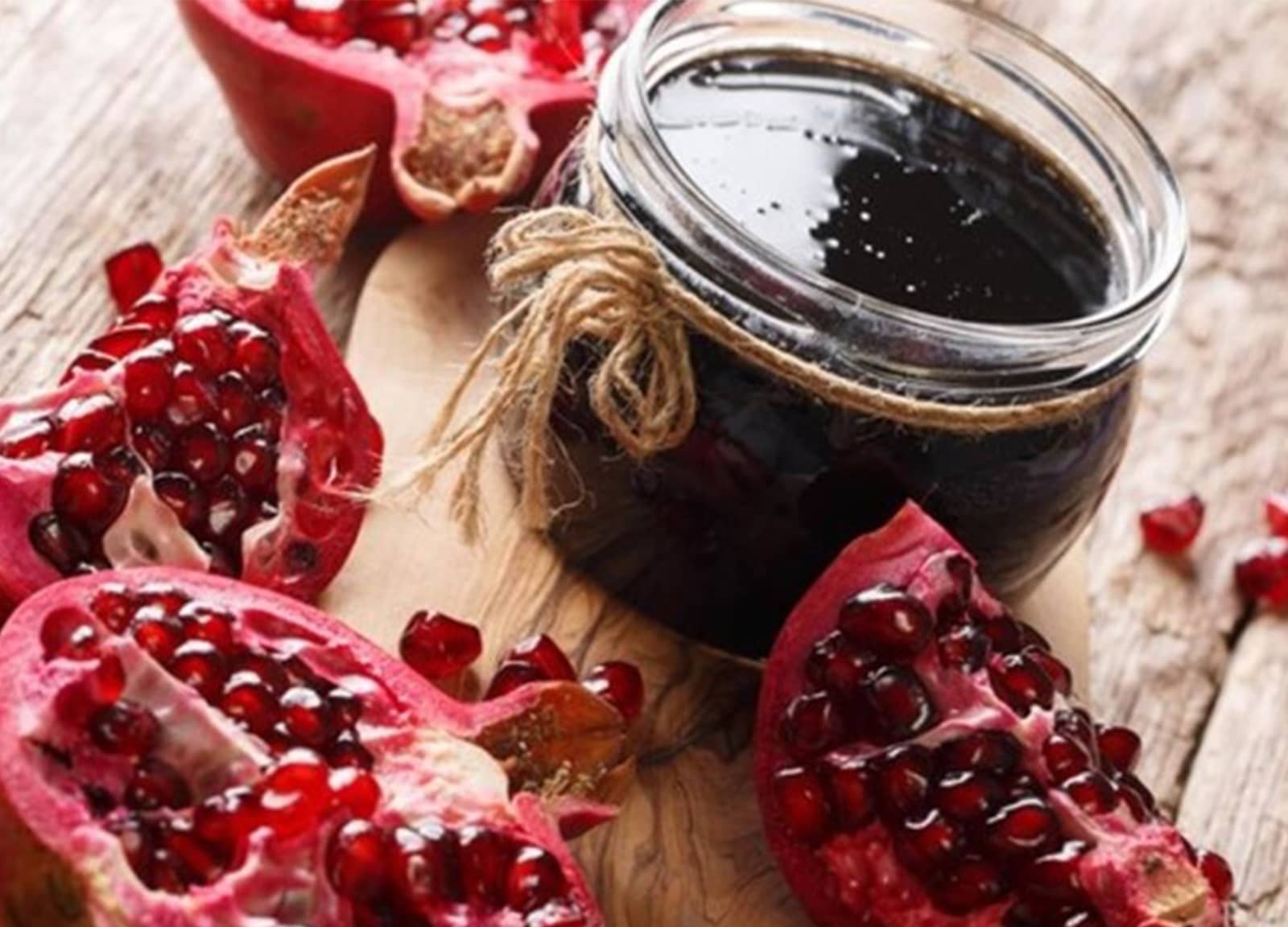 Pomegranate syrup is one of the most beautiful forms of pomegranate cultivated in Mesopotamia for thousands of years and was found in the kitchens of all civilizations that lived on this land.
It is known that pomegranate has been cultivated since 3500 BC. Thought to be native to the Himalayas, this herb was cultivated mainly in Iran, northern India, and the Mediterranean region, including Turkey, Greece, Italy, and Carthage.
Pomegranate is grown in all regions of Turkey, but it is produced and consumed intensively in southeastern provinces such as Şanlıurfa, Gaziantep, and Antakya. The densely shaped 'pomegranate syrup' known as pomegranate extract is frequently consumed in these regions. It is valuable as an important ingredient in local cuisines.
Today, pomegranate pulp is made in large cauldrons where the juice squeezed from the fruit is boiled until it turns into a thick syrup. Depending on the variety of fruit, the extracted pulp can be very acidic or, on the contrary, sweet.
Pomegranate syrup production starts after the pomegranate harvest in October.
Pomegranate is Important in All Cultures
The word "nar" in Turkish is a word that comes from Persian.
Many cultures believe that the pomegranate was the first fruit on earth and paved the way for civilizations with its unique qualities. The presence of pomegranate motifs has been seen in archaeological finds from the earliest historical period.
Thanks to the natural production method, the pomegranate turns into pomegranate pulp by reaching the ideal temperature without being exposed to high heat. If bottling is done without any chemical treatment or hand contact, the flavor of pomegranate syrup will be much better.
It is known that there are several varieties of pomegranate. The most known ones are: Hicaz, Katırbaşı, Devedis, Canernar.
A very sweet essence can also be produced by mixing the juices of different acidic varieties or vice versa to obtain the best taste and aroma.
Pomegranate syrup is very good for health. It is rich in antioxidants.
Pomegranate seeds get their vibrant red hue from polyphenols. It is a source of vitamin C and also contains vitamins K and B, which prevent cancer, protect memory, prevent the development of digestive diseases, protect the heart and vessels, help reduce hypertension, cure diabetes, heal infections, and balance cholesterol.
Pomegranate syrup is widely used in Turkish cuisine. Bulgur is consumed with salad dressings, some desserts, and other appetizers. Kisir is traditionally included in the recipe of bulgur salads such as lentil meatballs.