Some Night Activities in Istanbul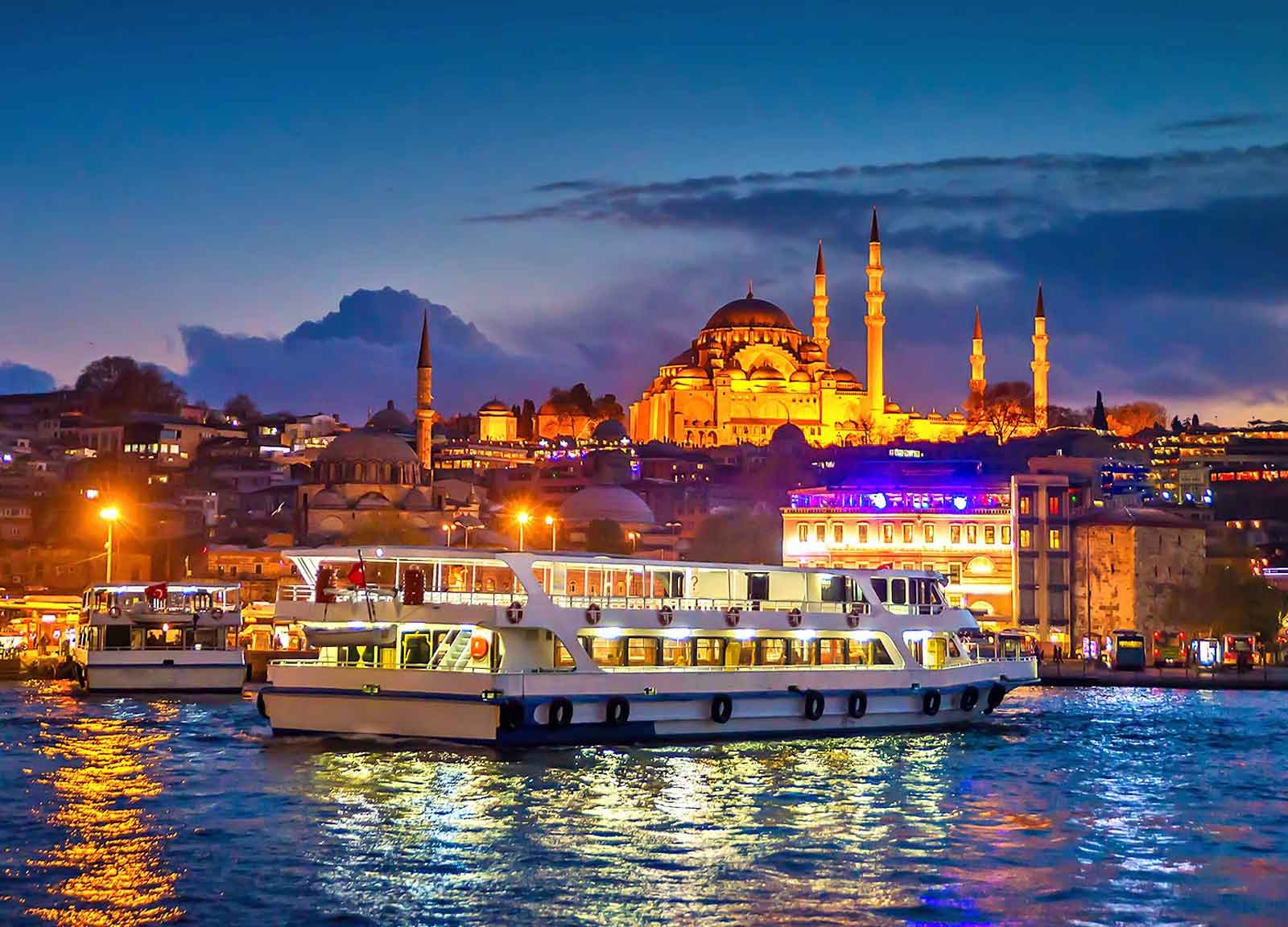 Istanbul is an almost unique city in terms of its historical and cultural richness. Like a fairytale, Istanbul was home to the Ottoman Empire for centuries. Before that, it was the capital of Byzantium, which left many traces of itself in the days of Constantinople. Today, Istanbul straddles the border between Europe and Asia, stretching for kilometers in every direction.
While every hour of Istanbul offers a fascinating view, it will not be possible to stay away from the beauty and vibrancy of its nights. We will suggest you 5 activities that will make you feel the pulse of the city at night.
1- Plan a Bosphorus Tour
Istanbul's skyline and the views it offers are something you can see in many places. We say that witnessing this view, which you can see everywhere, live while you are in Istanbul should be one of your priorities.
If your location is the Bosphorus at night in Istanbul, it will provide you with a magnificent setting to enjoy dinner and entertainment. No matter how you choose to spend your daytime hours, an evening meal on the Bosphorus is the perfect way to relax and enjoy yourself.
This event is very popular, so we recommend booking in advance.
2- Visit the Blue Mosque
The Blue Mosque is one of the famous landmarks of Istanbul. If you want to see the Blue Mosque, you will find it in Sultanahmet Square, the heart of the Ottoman Empire.
Sultanahmet is still a functioning mosque where visitors can enter at all hours except prayer times from early morning until night.
Entrance to the mosque is completely free, but donations are accepted. As a recommendation, it is a good idea to have a good guide accompany you to get the most out of your visit.
Leave your shoes at the door when entering the mosque. Once inside, you will see why the Blue Mosque, also called the Blue Mosque, is called the Blue Mosque. Its structure decorated with blue mosaics in different shades will help you understand.
Officially called the Blue Mosque, it was built in the early 17th century during the reign of Ahmed I and was his final resting place.
3- Stroll around Taksim Square
Taksim Square is the center of Istanbul's vibrant nightlife. Taksim Square has a variety of pedestrian streets, bars, restaurants, and accommodations.
This square is full of restaurants, shops, and hotels where you can truly experience modern Istanbul. Taksim Square is also a common meeting point for locals.
Trams are a popular way to get around Taksim Square. The many side streets outside the square are worth exploring.
4- Shop in Historical Marketplaces
While the Grand Bazaar and the Spice Bazaar close at 18:00, you can still find many night markets. These night markets sell everything you can think of.
The fruit and vegetable markets are especially colorful. You may not be impressed by the beautiful fruits and vegetables and may not want to buy them, but you should try at least one of Turkey's many desserts such as Turkish delight or baklava, aşure, or künefe. You will also be impressed by the abundance of fish in markets like the one in Beşiktaş.
Istanbul has an increasing number of modern shopping centers, but small retailers also work long hours on the city streets. We can guarantee that their friendliness will warm your heart.
5- Enjoy Turkish Baths
Sightseeing and exploring Istanbul is an activity you'll enjoy, and we're not surprised that you don't want to end it just yet. But if you're tired and in need of some rest and relaxation, we suggest you take a closer look at the traditional Turkish Baths. Turkish Baths are a great way to unwind and relax after a long day of sightseeing. Many of the traditional Turkish Baths have been in use since at least the 8th century.
There are many Turkish bath establishments in Istanbul, but the most popular ones are located in Sultanahmet or Beyoglu. Çemberlitaş Hamam, the oldest Turkish Bath in Istanbul, is conveniently located next to the Grand Bazaar.