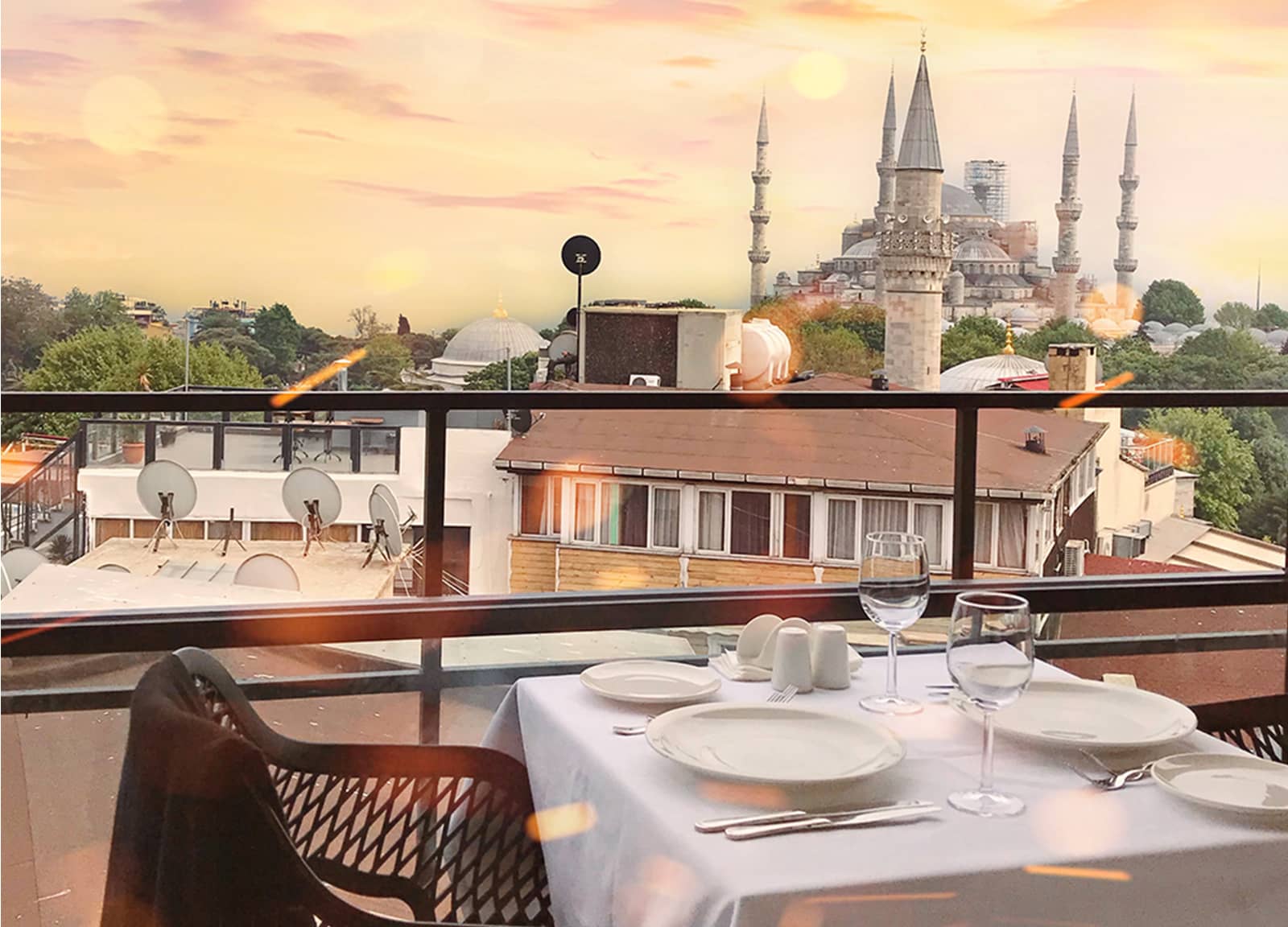 Istanbul restaurants are almost unlimited and suitable for every budget. In addition, Istanbul is a city that fascinates the whole world with its deep-rooted history, cosmopolitan structure, rich culture and beautiful landscapes. Istanbul is very rich in terms of historical places to visit, entertainment centers, cafes and restaurants.
Istanbul has a very rich choice in terms of cuisine. There are many options from the unique tastes of the world cuisine to the excellent dishes of the Ottoman palace cuisine, from local delicacies to the kebab culture. You can find categories serving all taste types in Istanbul restaurants. Romantic restaurants, scenic restaurants, budget restaurants and more.
Which Sultanahmet Restaurant is the Best?
Sultanahmet, one of the most lively centers of Istanbul, has a wide variety of restaurants. With its view and kitchen facilities, these restaurants are among the best in Istanbul. For example, Deraliye Terrace Restaurant dominates the panoramic view of Istanbul .
If you have come to Istanbul and want to discover the culture of this city, you should experience gastronomy. This city with a history of thousands of years has a dynamic and multicultural gastronomic heritage. You can get this experience in Sultanahmet, which is considered the historical capital and heart of Istanbul.
Did you want a pleasant dinner after visiting all the historical places that must be visited in Istanbul? You have to choose the right restaurant. As we mentioned at the beginning of the article, there are many options. So, which is the best restaurant in Istanbul?
Indeed, that is a difficult question. We think the answer is not clear. Deraliye Terrace Restaurant , located in an assertive position among Sultanahmet restaurants, will please you.
Located on the terrace floor of Sura Design Hotel, the most luxurious design hotel in Sultanahmet , Deraliye Terrace offers a 360 degree panoramic view of Istanbul.
A Quality Restaurant in Istanbul
The biggest feature of Deraliye Terrace Restaurant in Istanbul , as you can see, is its location and panoramic terrace. It is within walking distance of historical structures such as the Blue Mosque, Hagia Sophia, Topkapi Palace, the German Fountain, and the Million Stone. After visiting these locations, enjoy eating while watching the Bosphorus.
The view is spectacular, especially at night when the sun goes down. This is one of the best and quality restaurants in Istanbul.
Let's talk a little, let's talk about ourselves. Deraliye Terrace Restaurant is perfect for discovering the ultimate in Turkish and European cuisine in a clean and trendy setting. For lunch and dinner, it offers modern Turkish appetizers blended with international cuisine and special drinks to complement it. That's why you can find innovative and creative starters on the menu. There are ingredients that you should definitely taste.
The restaurant also offers soups and salads made with local and seasonal ingredients. You can find excellent options if you are mindful of your calorie intake or if you want a light meal.
A Romantic Restaurant in Istanbul
Are you looking for a restaurant for romantic dinner in Istanbul?
Our recommendation will be Deraliye Terrace Restaurant again . You can watch Istanbul from the terrace view with its food and atmosphere. Terrace restaurants have always been the first choice of lovers.
Deraliye Terrace Restaurant
Address: Ticarethane Sok. No: 13 Sultanahmet/Istanbul
Phone: +90 212 514 39 16
Email: [email protected]
Menu: Deraliye Terrace Menu
Instagram: Deraliye Terrace Instagram